Ethical investments
Ethical investments are about placing money according to morals and beliefs, not simply profit at any cost. However, that doesn't mean that you have to compromise on returns; just that ethical investments are made more selectively and avoid environmentally damaging practices, trade with oppressive regimes and countries with poor human rights records, gambling, tobacco companies and the arms industry.
Here you'll find a number of companies with proven ethical credentials offering a wide range of investments.
"To honestly achieve a sustainable economy, humanity must step through a paradigm shift, as profound as the transition in the sixteenth century, when Copernicus showed that the earth is not the centre of the universe. Likewise, ecology teaches us that humanity is not the centre of life on the planet. Just as the Pope's henchmen refused to look through Galileo's telescope, some economists avoid looking out the window to see what keeps humanity alive: photosynthesis, precious materials, and concentrated energy." – Rex Weyler

ethicalfutures are ethical independent financial advisers (IFA). They specialise in ethical investment and financial planning. Based in Edinburgh, they advise clients throughout Scotland and the UK. Their job is to help you make the right decisions for your needs both financially and ethically. At ethicalfutures, they believe they can help you make your money change your world. Julian Parrott, partner with ethicalfutures, has been voted the Money Management Ethical Investment Planner of the Year 2007. www.ethicalfutures.co.uk
Telephone: 0131 557 6677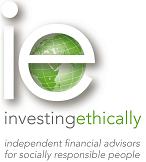 Investing Ethically Ltd (Independent Financial Advisers) If you require independent ethical financial advice, please contact Investing Ethically Ltd whom specialise in socially responsible and ethical finance. Offering a nationwide financial planning service to individuals, organisations and charities, seeking to build long term relationships with clients. They can help you with ethical investments, savings, pensions, wealth management and financial advice, linking your ethical concerns to the power of your money and aligning investments with your ethical and environmental values.
Please call 01603 309020 for a free brochure or an initial consultation with an adviser at their cost and without obligation or visit www.investing-ethically.co.uk for further information.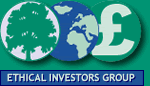 Ethical Investors Group provides a specialist financial advice service to all those who care about their world and its preservation, and wish to extend this philosophy to all areas of their lives. www.ethicalinvestors.co.uk

Shared Interest is a co-operative lending society that aims to reduce poverty in the world by providing fair and just financial services. They work with fair trade businesses all over the world, both producers and buyers, providing credit to help them trade and develop. www.shared-interest.com