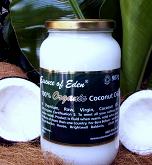 Essence of Eden Premium Raw Organic Coconut Oil received an Award out of 700 entries in The Times & The Soil Association, Organic Food Awards 2008/09. In the 'Store Cupboard Staples' category, three awards were assigned. The Winner, Highly Commended and Commended. The only coconut oil to receive such an award! Vegetarian Society ApprovedOrganic Food Awards. Why? This is not a cold pressed oil, but a centrifuged oil, producing the very finest in flavour and texture, a pure dream to the palate! For your hair, skin, gut, toes, teeth etc. Quote promotional code "Try Me Now" when ordering www.essenceofeden.co.uk

Pure Luxury Organics A family owned and operated business. A portion of every sale is donated to Half the Sky and various other organisations that are directly creating and funding projects that help orphans in China. When you purchase products from Zia & Tia, you can be sure that you are helping precious little ones and making a difference in their lives. www.ziaandtia.com
The Green Providers Directory
Average rating:
4 reviews
Jun 30, 2015
Beyond Organic Skincare. I've never woken up with better looking skin!
Mar 27, 2015
Mama Nature. I have a 6 month who had terrible nappy rash and not even the doctor could solve this. After using Tiny Troubles Healing Salve by Mama Nature for just one week all of the rash and open wounds have healed. What a miraculous cream.
Mar 27, 2015
Conscious Skincare. I thought you'd be interested to hear a wonderful complement I received from a stranger last night - "You have beautiful skin, you must be doing something right!" I would say that something, is your face cream. I will be back for more, for myself and a friend.