Recycling facts. Most of the goods we use can be recycled in one way or another, and there are many different schemes now available to make it easy for you to recycle and re-use unwanted goods.
Did you know? Many of today's gadgets such as mobile phones, PC tablets, laptops, etc.. end up in landfill sites where they cause pollution and sickness.
The environmental cost of technology
Recycling and the circular economy

"Like a shadow that does not permit us to jump over it, but moves with us to maintain its proper distance, pollution is nature's answer to culture. When we have learned to recycle pollution into potent information, we will have passed over completely into the new cultural ecology." — William Irwin Thompson
Some interesting recycling facts
The UK only recycles a small proportion of its rubbish, yet Switzerland, Holland and Germany recycle over half of their waste.
The demand for paper places pressure on the world's forests. Instead of using paper once and throwing it away, recycling paper and cardboard is better for the environment.
It isn't necessary to use up natural, valuable peat bogs to make compost. You can make your own organic compost from vegetable peelings, tea, coffee and garden waste.
Most plastic is made from oil which takes hundreds of years to degrade in landfill sites or produces toxic smoke from incinerators. Companies need to stop over-packaging items whilst reducing the amount of plastic they use.
Two-thirds of the metal wasted comes from steel or aluminium cans and foil. Recycling these is easy, profitable and saves resources and energy. Aluminium cans could be recycled indefinitely saving 95 per cent of energy needed to make new.
Glass 30 gallons of oil are saved for every tonne of glass which is recycled.
Old clothes, toys and furniture can be re-used. Other products can be reprocessed if they are broken down into component parts. Manufacturers should be making products that last and are recycleable. In fact, virtually everything can be recycled!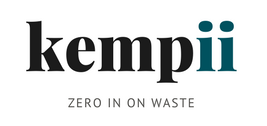 Kempii is an online platform designed to help people who want to reduce their waste impact – from plastic disposables to food waste. They offer easy, everyday swaps that add up to a huge impact. Their site provides free tips on reducing waste at home or on-the-go, and lists recommended products (they've done the searching for you!). All of their products will in some way reduce your waste footprint – for instance, by switching disposables for reusable items (like water bottles), using low-packaging alternatives (like shampoo bars) or reducing food waste (compost bins). Kempii also donate 10% of their profits to WasteAid UK, an independent UK charity that shares practical and low-cost waste management know-how with communities in low-income countries. With Kempii, reducing your own waste footprint can help others do the same! www.kempii.co.uk

Recycling Bins has a huge range of domestic and commercial recycling bins. They have stackable and compact bins for sorting home waste.  They also have a range of large commercial bins for businesses, schools hospitals and events. They stock bins suitable for interior and exterior locations. Most of their bins are in stock and can be delivered the next day. As part of their environmental commitment, they try to source products that are manufactured using post-consumer plastic as much as possible. www.recyclingbins.co.uk
"If it can't be reduced, reused, repaired, rebuilt, refurbished, refinished, resold, recycled, or composted, then it should be restricted, designed or removed from production." – Pete Seeger
The Green Providers Directory
Average rating:
0 reviews