Eco friendly bottles
When you use a reusable water bottle, you help reduce the production of bottled beverages and therefore, the landfill and recycling burden of the bottles.
Big increase in plastic found in the oceans
Did you know? According to the Environment California Research and Policy Center, several types of plastic water bottles are made using chemicals considered carcinogenic. Aluminum, stainless steel and glass alternatives are much safer choices.
"Solid wastes are the discarded leftovers of our advanced consumer society. This growing mountain of garbage and trash represents not only an attitude of indifference toward valuable natural resources, but also a serious economic and public health problem." – Jimmy Carter

Reusable bottle A reusable bottle can save on hundreds of disposable plastic bottles and hundreds of pounds of wasted money. And, let's face it, why buy a boring bottle of water for £2 a time, when you can have a lovely long-lasting bottle to fill for free from your tap! There is a bottle for everyone from the tiny tot in the buggy to grandma who wants a warm cuppa in her greenhouse. www.reusablebottle.co.uk
Onya Bottles The range of H2Onya water bottles now come with new flip-flop lids – to make sipping even easier on the go! Bottled water is as expensive as petrol, so it makes huge sense to invest in an H2Onya and refill from the tap. Finally check out the brand new Onya Lunch – a reusable sandwich wrapper – it velcros to the size you need and even label for your name! www.onyabags.co.uk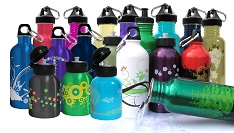 A fine choice ltd. is UK distributor for BPA free drink bottles by Green Bottle that are made out of stainless steel and come in three different sizes for kids, adults and dogs. Retail, Wholesale, Fundraising and Personalised Bottles (e.g. with your school or company logo imprinted). They also carry glass straws by Strawesome and eco-friendly food wrapper "Boc'n Roll" and would like people to swap from plastic products to healthy reusable ones. A fine choice ltd. are currently look for Sales Reps to sell their products into shops. www.afinechoice.co.uk
The Green Providers Directory
Average rating:
0 reviews