Tree to my Door
Tree to my Door (Tree2mydoor) is the award winning tree gifts company based in Manchester, UK. They create unique and original gift packs that can be personalised by their customers and delivered nationwide to their friends and family.
Tree to my Door is a family run business that was set up to provide people with original and meaningful natural gifts. The idea for the business came from Gareth the company founder, who wanted to send his parents some fruit trees as gifts for Christmas. After a web search, he realised that he couldn't find a company that could supply trees as gifts so he decided to set up Tree2mydoor.com in 2002 to do just that!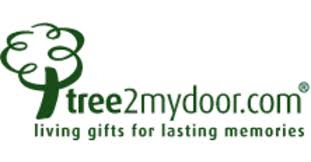 Unique Gift Packaging
We supply a range of trees and plants that are individually boxed with a personalised greetings card and care guide. Our original tree gift packs have won prestigious awards over the years and our customers love what we do. Sending a tree as a gift is certainly very different because it offers both sender and recipient with a long lasting and memorable gift that is good for the environment. It is lovely to hear back from customers who sent trees as gifts from Tree2mydoor over 5 years ago to find how their trees have grown up.
Background
Tree2mydoor was set up in October 2002 by Gareth Mitchell, an environmental marketing executive with an agenda to supply 'greener' products to consumers.
Gareth grew up in Larne, Northern Ireland an area surrounded by beautiful and contrasting countryside from the Glens of Antrim and the famous coastline, to quiet Loughs, with rolling hills, secret 'nut braes' and picturesque villages. Under the guidance of Gareth's grandfather, (Tom McKeen – a local character and singing butcher), Gareth learnt about the many different species of local wildlife and plant life. Every Tuesday, Tom would take his grandson out to gather dulse from the seashore, hunt for blackthorn walking sticks and pick wild berries and nuts from nearby Glens. From these early lessons, Gareth grew up with a strong desire for conservation of his natural surroundings and the protection of ways of life.
After leaving college, Gareth moved to Middlesbrough, NE England, to study marketing at University. Gareth graduated and moved to London in 2000. After a year working in marketing and publishing in South East England, Gareth moved back up North to Manchester. Drawn back to his environmental roots, he began working for Groundwork (National Environmental Charity) where he was responsible for setting up new internet marketing systems along with a range of corporate displays and newsletters.
The concept of giving a tree as a gift came to Gareth when he wanted to buy his parents a Christmas gift with more meaning than a box of chocolates or a music CD. After an internet search, he couldn't find a company that could supply a 'tree gift' and from here the concept of Tree2mydoor was born. A working business model was created for Tree2mydoor in Gareth's spare time.
Gareth explains, "As the model was developed, it demanded more and more of my time which eventually led to me handing in my notice and going it alone!"
Tree2mydoor.com was created in October 2002, and Tree2mydoor Ltd was founded in September 2003 by Gareth, with the new company website, www.tree2mydoor.com launching during National Tree Week in November 2003. Gareth received a small grant and start up business loan from The Prince's Trust which helped get the limited company set up.
It wasn't long before Tree2mydoor won a national award, akin to the Oscars for the UK gift industry at the 2004 Gift of The Year Awards at a glittering ceremony at The Savoy Hotel. The prestigious award was awarded for the Ancient Wisdom tree gift range and it led to loads of positive attention from the national British media which helped to raise awareness and sales which in turn helped Gareth to expand into new product lines and to continue to build the Tree2mydoor brand.